Parrot Puzzler
Every Sunday
Join Chris every Sunday evening for the latest edition of The Parrot Puzzler. Subscribe to The Parrot Puzzler YouTube channel to get all the latest quizzes straight to your device.
Christmas 2022
Christmas is nearly here.
---
Starting from Friday 18th November we have our Christmas Party menu available. 
Complete with crackers, festive tunes, a log fire and the smells of mulled wine filling the air. Book your party in now!  
---
Festive afternoons are back!! 
After the success of the festive afternoons last year we have bought them back. Join us on Sunday afternoons from 3pm on the run up to  Christmas to sit back and enjoy some live music. Mince pies for everyone along with roast chestnuts. We may even work some magic and organise some snow!!
27th November – Leiston's Royal British Legion Brass Band
4th December – The Amazing "Hot Tin Roof"
11th December – Pilgrims together Carol Singing
---
Christmas Quiz and Supper
The Christmas Quiz and Supper is back with just a couple of spots left.  Tuesday 6th December is the date for your diary. Supper from 6pm offers Suffolk sausages, mash, roast veg and gravy. Team of 6 or fewer £15 per person. Call to book your team in.
---
Carols on the Green
Thursday 8th  December join in the carol singing on the village green around the christmas tree before heading back to our Outside Inn for mulled wine and mince pies. A great evening for the whole family, even the sheep!!
---
Christmas Coffee Morning
Wednesday 14th December 10am
We provide the coffee, you provide the cake.
---
Christmas Eve Big Bash
Our favourite night of the year. 
We have live music, plenty of mulled wine, bonfire, roast chestnuts and snow as we all await the arrival of Santa the next day. From 6pm join in the fun with us.
---
Christmas Day
The Big day is here! We currently have a waiting list for tables on Christmas Day, please take a look at the Christmas Day Menu here. The Outside Inn is available for drinkers from 12pm-2pm.
Christmas Parties
18th Nov-23rd Dec
Christmas Parties 2022
Get in to the Christmas spirit this year with a fantastic meal at the Parrot. Available form 18th November until the 23rd December, Tuesday – Friday. 
Check out the Christmas Party menu here
There'll be mulled wine, mince pies and plenty of hot chocolate. Don those paper hats and join in the fun!
Minimum table of 6 with a 50% deposit paid and a pre-order 1 week before your booking.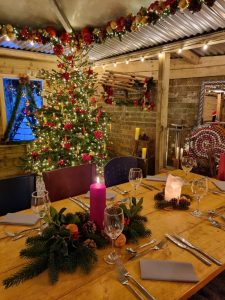 Brass Band
27th November
Festive Afternoon
Sunday 27th November 3pm-5pm
Kick off the run up to Christmas with Live music from an amazing Brass Band!! 
Live music from a 6 piece Brass Band from Leiston.
Live from The Outside Inn, we'll have plenty of mulled wine and hot chocolate to keep you warm. They'll be chestnuts roasting outside and a mince pies available. It is sure to be a very festive filled afternoon.
Although we do have heaters it can be chilly so wrap up warm.
Opening Hours
Tuesday – Saturday   12pm – 2.30pm  6pm – 10pm              food served 12pm-2pm  // 6pm – 8.30pm
Sunday 12pm – 5pm   food served 12pm – 2.30pm 
Call Us Today
01728 830221